Missing your cup of coffee while on the go? YOU SHOULD NOT!
Coffee is considered a great beverage, especially for travelers. It helps you negate the effects of flying and also fights tiredness to give you a fresh start every time. It also helps you to deal with the stress and anxiety of the work pressure when you're on a business trip. So, you simply can't miss your cup of coffee while traveling.
The only issue is that no one can make coffee as perfect as you. Well, it's a fact! And when you're traveling around the world with different time zones, weather conditions and especially different coffee tastes, you have to be ready.
Don't worry, we've got you covered. You must be aware of the coffee makers, now it's the time to make use of a slightly smaller version of the original coffee makers. There are varieties of 'travel coffee makers' available in the market. Smaller in size but serves a very big purpose.
We've listed the best 10 travel coffee makers with their pros and cons. Read till the end to find the important buying guide that'll help you to buy the most suitable travel coffee maker and you never miss your favorite 'go-to' drink!
List of Best Travel Coffee Makers
1. OXO Venture Travel French Press with Shatterproof Tritan Carafe
OXO Good Grips Venture Travel Coffee Maker gives you the best French-press coffee. The French Press is a style of brewing coffee ideal for people who enjoy the art of making coffee as much as the full-bodied, flavorful beverage itself. The OXO Venture French Press allows you to craft a consistently delicious brew in minutes. The clear Tritan carafe is durable, shatter-resistant, and perfect for taking on the go while traveling or camping. The press has a non-slip knob and comfortable handle for easy pressing and pouring filters coffee for a delicious brew and comes apart for easy cleaning. A secondary filter on the spout adds another level of filtration for the perfect cup. It has an 8-cup capacity that is ideal for serving parties of two or more
Pros
Convenient, transparent window to show coffee levels
Tritan plastic body
Shatter-resistant body
Cons
Expensive
Takes more time to brew
2. Wacaco Minipresso GR
People who love espresso will absolutely love the Wacaco Minipresso GR. This portable Espresso machine is one of the smallest, lightest, and most versatile handheld bottles that can be easily carried in place of water bottles in the backpack during tours or camping trips. The Wacaco Minipresso GR works with the help of optimal extraction pressure, and it doesn't require any compressed air, N2O cartridges or electricity but just a few pushes to extract rich flavored espresso for you. Its beautiful sleek design can catch anyone's attention and it is strong and durable also.
Pros
Charming sturdy body
Powerless operation
Durable frame
Cons
Cleaning is a bit problem
Not hot enough
3. Breville VCF050 Coffee Express Personal Coffee Machine
Breville coffee machine is another excellent choice for people who are looking for cheaper products. This bottle-shaped machine can hold about 500ml of coffee and that's a pretty decent amount. The body is double sealed to retain the heat and that makes it impact resistant also. The lid is designed to be spill-free and provides a vacuum effect. The best part about this coffee maker is that it can easily fit inside any car bottle holder which makes it highly accessible and handy. It comes with a permanent filter that just needs a quick cleaning before every coffee brewing session. One thing that is a little tricky here is the time required to brew. It takes up to 5 minutes to brew a single cup of coffee.
Pros
Quality flavored coffee
Light-weighted
Cons
Takes more than 5 minutes to brew
Requires extra care to carry
4. Presto 02835 MyJo Single Cup Coffee Maker
The Presto MyJo single cup coffee maker is a pocket-friendly and small-sized press-coffee maker. It can brew 6, 8 or 10 ounces of coffee and works with most travel and coffee mugs. Its body is made of durable plastic material and silicon that makes it easy to clean and maintain. You can make the coffee in this coffee maker in just a few simple steps, fill the reservoir with hot water, place the K-cup in the base, attach the water reservoir and pump. You have to place the assembled coffee maker on the top of your coffee mug and pump water to brew the coffee. It can be used anywhere, in your home, work, school, during travel or camping.
Pros
Attractive design
Compact size
No need for a power source
Cons
Brew time is usually longer
Rubber gasket at the bottom keeps coming off
5. Bodum Travel Press, Stainless Steel Travel Coffee & Tea Press
The Bodum Travel French-press coffee maker comes with a motto of 'looks hot, stays hot' and somehow fulfills it also. The modish stainless steel double wall design with a vacuum seal maintains the heat for hours while remaining cool to the touch. The silicon and mesh filter inside this device reduces sediment and the non-skid rubber base and colorful silicon band provide a comfortable and ergonomic grip. The design is very durable and lightweight and takes very little space in your luggage.
Pros
Elegant modern design
Portable and easy to carry
Double-wall insulation
Cons
The plunger rod is not long enough
Lid leaks sometimes
6. GSI Outdoors Java Drip Collapsible Pourover Coffee Maker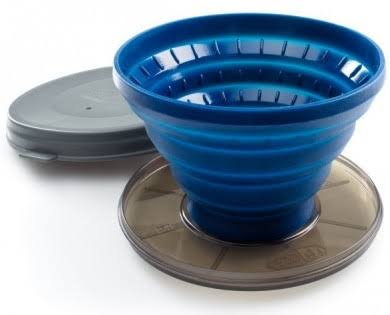 If you're looking for the cheapest option, this one is for you! As small as a lid and easy to store even in a little carry bag. This coffee dripper is made of high-grade silicone and clear polypropylene that can easily brew about 12 cups of coffee in a go. It has a unique fit-ring design that centers the drip cone over mugs, cups and wide-mouth water bottles for stable and spill-free brewing. You just have to set the filter on the top of your favorite mug, attach the dripper and pour the coffee grounds and hot water and voila!
Pros
Portable and packable
Collapsible
Wide base that fits on most camping vessels.
Cons
Doesn't give the best flavor
7. Wolecok Collapsible Pour Over Coffee Dripper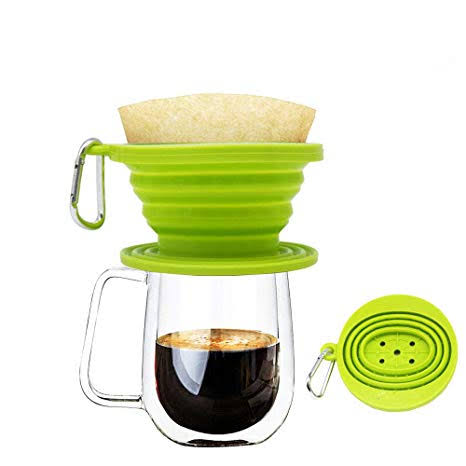 Another collapsible pour-over coffee dripper that goes light on pocket and serves almost the same purpose as the GSI Java dripper. It is considered to be the best option for people who love camping and have to follow a constraint on the luggage. You can easily slip this silicone coffee dripper in the side-pocket of your bag and use it multiple times whenever you want. It can be easily cleaned and comes in a variety of bright colors. The silicon material used to make this product is approved as 100% Food-Grade silicon and FDA. It is heat resistant and uses a filter paper to strain the coffee.
Pros
Collapsible and compact
Dishwasher safe
Easy to store
Cons
Smells and tastes like silicon
Only make a single cup of coffee
Fragile
8. Soma Double Wall Glass Tea and Coffee Cold Brew Bottle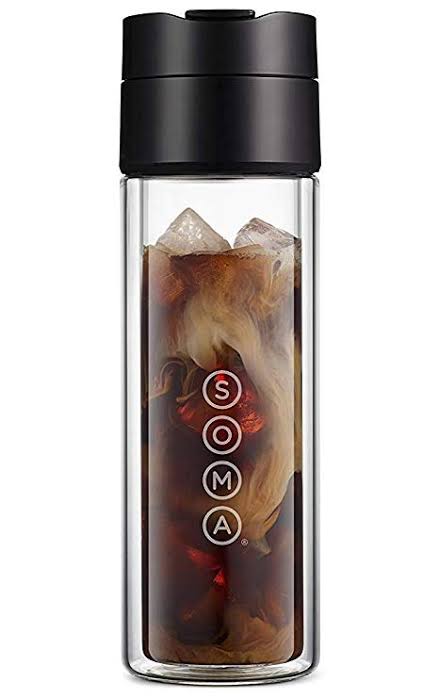 As the name suggests this device is best suited to satisfy your thirst for both hot and cold coffee. It has an aesthetically pleasing body design and can easily make you a cup of pour-over coffee, cold brew, and loose leaf tea. It has a capacity of 12 ounces which is a little less for coffee addicts but still can make a decent amount of coffee. You have to load the included fine mesh stainless steel filter with grounds and pour hot water over it to prepare the hot coffee. To make the loose leaf tea, Load the filter with loose leaf tea and submerge it in hot water to steep. Preparing cold brew coffee is as simple as filling the bottle with grounds and water and refrigerating it overnight.
Pros
Transparent window to show coffee levels
Durable glass body
Shatter-resistant body
Cons
Not dishwasher-friendly
Expensive
Less Capacity
9. Kalita Wave 185 Drippers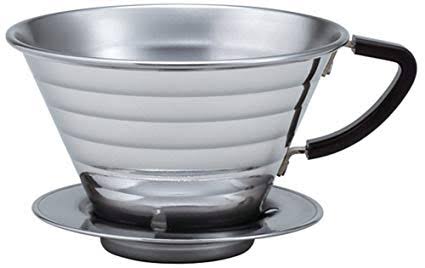 Kalita Wave 185 dripper is a very uniquely designed coffee dripper. It comes with a flat-bottom coffee bed geometry, patented 'wave' filter and a three-hole design that works together to provide an even extraction that makes brewing perfect and easy. It is available in three different styles stainless steel, glass and ceramic so, you can pick which one suits you the best. The pour-over system actually gives you more control over the taste of your coffee.
Pros
Even extraction
Super easy to clean
Super affordable
Cons
The taste of the coffee is in your hands.
No filters with the product. You have to buy it for yourself.
10. AeroPress 82R08 Coffee Maker
The AeroPress 82R08 is a new kind of press-coffee maker that brews the perfect coffee under ideal conditions. It is an all-in-one coffee maker and takes care of the proper temperature, rapid filtering, and total immersion. This product is being loved by the professional coffee makers and coffee-lovers all around the world for its amazingly delicious coffee with a wide range of beautiful flavors. It has a capacity of 4 cups and comes in a very stylish designed body.
Pros
Convenient and compact body design
Takes less than 30 seconds to brew coffee
Micro-filtered for grit free coffee
Buyer's Guide for Portable Travel Coffee Maker
There is a huge market of portable coffee makers with different varieties, sizes, and features. Classifying them into groups is a tough task as all of them are unique in some or other way.
Well, in terms of their design, they can be grouped something like this!
1. Travel mugs
Travel mugs are the cheapest alternative for portable coffee makers. They are small, lightweight, easy to carry and require the same consumables: ground coffee and hot water. These mugs usually use the pressing style to brew coffee.
2. Espresso makers
As the name suggests, these ones are specially designed to give you the best-brewed espresso. You will just require ground coffee or coffee pods and hot water and rest your espresso maker will do!
3. Coffee makers
These coffee makers are again a small and compact device to prepare your coffee but they have a major drawback. It just works as an appliance that makes coffee. You have to boil water, grind coffee and filter it in different appliances. It means you've to carry additional appliances.
4. All-in-one coffee machines
The all-in-one coffee machines are considered to be the best portable coffee makers. It features everything, a grinder, water heater, filter, and all other necessary appliances to make the perfect coffee.
You can also differentiate between portable coffee makers according to the 'brew options'
5. Pour-over
This one is the most compact and handy coffee making device. You just put your coffee grounds in a strain then pour water into it and let the coffee dribble into your mug.
6. Espresso
The Espresso coffee makers require just a small amount of hot water and finely-ground coffee to get you the best flavor. They are a little more expensive but can give you the best-brewed Espresso.
7. Total immersion
The coffee makers that use the total-immersion are bigger in size but still, you can carry it with you without any issues. If you love French-press coffee, this is your dream appliance.
In terms of the power source, you can put the portable coffee makers in these two categories.
8. Electrically powered
Some of the models of the portable coffee makers feature water heaters and grinders and thus require electricity to make coffee.
9. Manually powered
These press-styled portable coffee makers require no power supply. These are helpful when the power source is not available and you're craving for the coffee.
How to pick the perfect portable coffee maker?
1. Think of the use!
Do you need a portable coffee maker for your meetings? Or long stay at hotels? You will get the electricity during your journey or not? You have to consider all the important factors before buying the coffee maker.
2. Consider the price!
The price varies according to the features. Don't get fooled just by looking at the small size and high price of the coffee maker and considering it the best. Compare all the different features and see what you require the most. Even the cheap coffee makers can give you the best coffee.
3. The perfect design!
For some people, the appearance of the coffee makers doesn't matter at all as long as it is making the best quality coffee. But, if you're one of the people who adore the outer beauty also, don't just pick the first one. Take some time and find the design you'll love looking at.
4. Additional appliances!
Do you already have additional appliances for heating and grinding? If yes, is it possible for you to carry them when you're traveling? We suggest you buy the all-in-one machine for your convenience but if it's okay with you to carry additional appliances, you can invest less and buy the leftover piece of appliance.
5. The perfect size!
The size of the coffee maker is the most important factor. Think of where you're going to pack the device. If you're going on a long camping trip, you can consider taking a bigger portable coffee maker which can serve many people at a time but for business travel, a small coffee mug will do.
6. Effortless cleaning!
Make sure your coffee maker is super handy and can be cleaned easily so that you can make coffee again and again without any issues.
The Final Verdict
These travel coffee makers have made our lives so simple. Waiting forever to reach back home and have a sip of your favorite coffee is not the only option now. Thanks to these innovative coffee makers, you can make your own coffee anywhere and at any time.
You can pick up any portable coffee maker you want according to your needs and accessibilities. Make sure you read the buying guide carefully and consider all its points to pick the best product.
If you've any more queries related to the above products or any other product, you can drop a message in the comment box and we'll get back to you as soon as possible.