Most of us often start our day with a cup of coffee or iced tea. But if you are kind who travels a lot, it will not be possible to spend time in the morning to prepare and enjoy your tea/coffee at the comfort of your home. This is where Travel Mugs come into the picture. In this article, we select the Top 8 Travel Mugs to help you enjoy your coffee longer.
We selected the Top 8 Travel Mugs considering these points along with factors like brand name, online reviews, and ratings. Here is the list.
Best Travel Mugs You Should Get Right Away
1. Contigo Autoseal West Loop Stainless Steel Travel Mug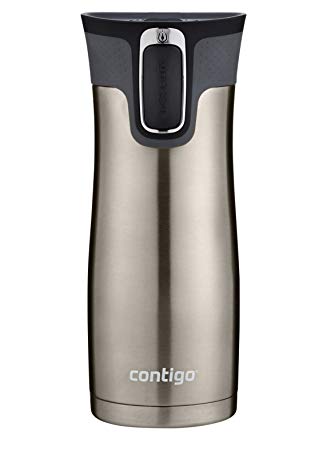 Contigo Autoseal Mugs are one of the best quality mugs for travel. This mug can maintain the hot liquid with the same temperature for up to 5 hours and the cold liquid temperature up to 12 hours thanks to thermalock vacuity padding inside the mug. The lids are sealed and made spill-proof.
This Travel Mug can easily be handled by one hand and has a push-button on its side to open the mug with a simple press.  There 20 varieties of colors to choose from. If you want the best overall performer that you can use anywhere, go for this Travel Mug.
2. Zojirushi SM-KHE48PV Stainless Steel Mug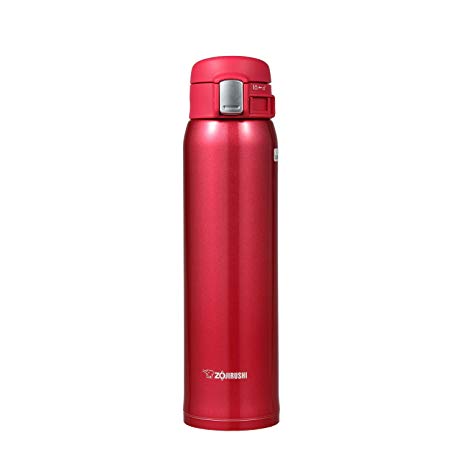 This Travel Mug looks like the Contigo Autoseal Travel Mug. It has a good level of capacity and a big mouth that gives more comfort to have a drink during your travels.  This vacuum-insulated mug has two layers of stainless steel to keep your beverages hot or cold for 6 hours.
The Zojirushi Stainless Steel Travel Mug has a sleek and compact design to take up minimal space while giving maximum capacity. It has a button on the top of the mug with which it can be used to open and sip the liquid inside it. The lid does not separate when we open to have the drink. There is a safety lock to prevent accidental opening. It is available in multiple colors including Smoky Blue, Champagne Gold, Black, Lavender Pink, Stainless, Deep Cherry and Emerald.
3. RTIC Stainless Steel Tumbler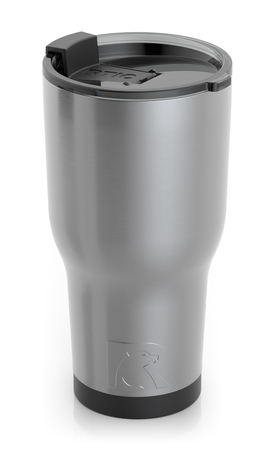 This Travel Mug can keep your ice frozen for up to 24 hours and also works great with hot beverages. It does that with the help of a double-wall vacuum insulated container and airtight seal. The internal temperature stays ideal while the exterior has a comfortable temperature for handling.
The mug has a stainless steel construction with an easy-grip base.  With the new shaded Splash-proof lid, you can check how much drink you have left. The tapered design makes sure it fits in any size of a cup holder. It has only one silver color option which should be pleasing enough to most people.
4. Thermos Stainless King 16 Ounce Travel Mug with Handle
The vacuum insulation of most travel mugs will keep your hand dry or prevent it from burning. But if you want a Travel Mug with a handle, this version from Thermos is the right pick for you. Thanks to double-walled stainless steel construction, it can keep beverages hot for 7 hours and cold up to 18 hours.
The lid has a "DrinkLock" seal that opens when you press the lever to the right or left. Tea drinkers will certainly love this mug as it comes with a built-in tea hook to accommodate most tea infusers. The mug fits most automobile cup holders and is available in six color options.
5. Bubba Brands Classic Insulated Mug, 52-ounce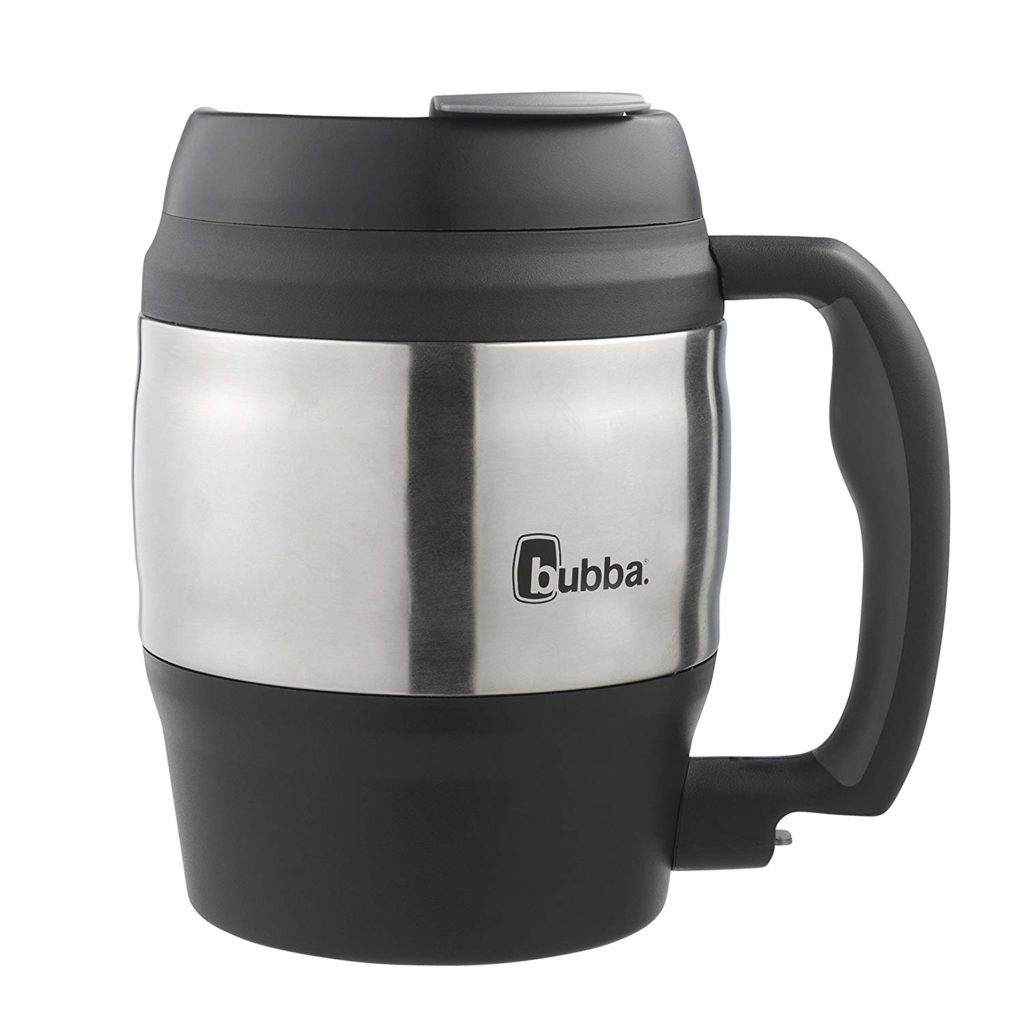 If you are interested in quantity, then Bubba Brands mug is the perfect one with a whopping 52 ounces. While this is not your regular morning coffee drinker that fits in your car's cup holders, it works well for your picnic, beach or camping trips.
The mug is extremely durable and can easily handle drops or being knocked. The handlebar is wide and gives a good grip. It has a keg shape with dual-wall foam insulation that keeps your drinks hot up to 3 hours and cold for up to 12 hours. This Bubba Brands Mug comes in 6 color options.
6. Ello Campy Travel Mug, 18oz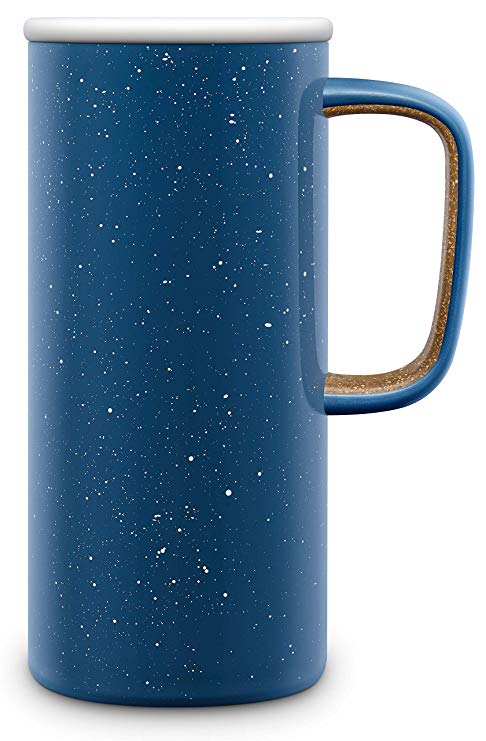 This mug is inspired by the classic enamel mugs used in camping and hiking and evokes a vintage vibe. We can easily vote it to be the best-looking in the list. It has a soft handle touch along with a 100% leak-proof slider lid. The Mug's design is not complicated compared to the likes of Zojirushi and is dishwasher safe
Ceramic Mugs are usually heavy and don't retain heat well enough, but Ello Campy Travel Mug begs to differ. Thanks to a vacuum insulated stainless steel build, it keeps your drinks hot for 6 hours and cold for 24 hours.  It comes in the Avalon Sea and Navy color options.
7. Bubba Envy S Stainless-Steel Tumbler With Straw, 24 oz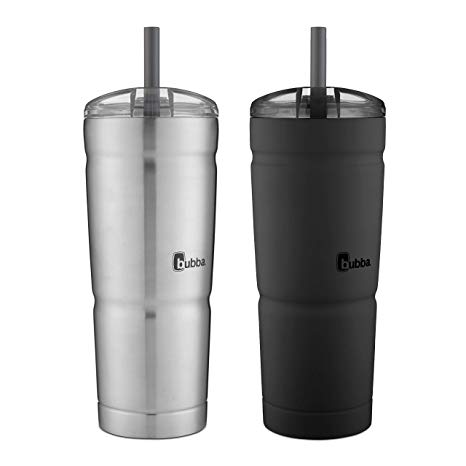 If you are more of an iced coffee guy and like it with a straw, the Bubba Envy S Stainless-Steel Tumbler will fulfill your needs. It has an iconic bulb shape design and will fit in most cup holders. Thanks to a dual wall vacuum insulation it keeps your drink cold for up to 12 hours. It is made of high-quality food-grade stainless steel meaning it will repel stains and odor.
You can use the BPA free removable plastic straw with the Tritan lid or not depending on your preference. It has a silicone base to prevent sliding. There are 8 color options and comes with a Lifetime Guarantee.
8. NiftyCORE Bamboo Leak-Proof Travel Mug, 14 oz
With double-wall vacuum insulation and a zen bamboo shell, the NiftyCORE Bamboo Thermo keeps your beverage warm for hours without compromising on your style. The exterior surface is designed to remain cool and dry, no matter how hot your beverage is.
This Travel Mug differs from the traditional steel bottles and is encased in a beautiful, eco-friendly bamboo. By using the included strainer, you can easily turn the wide-mouth bamboo thermos tumbler into an infuser. The product works perfectly at home and work and even can take it outdoors in your fishing or hunting trip. Also if you are not happy with 100% with your tumbler, the company is offering you a 100% money-back guarantee.
Why do you need a Travel Mug?
A travel mug helps in retaining the temperature of your beverage for a long time as well as keeping you hydrated on long trips. You can fill it with any hot or cold beverage and carry it with you. The Travel Mugs are insulated and they hold a larger amount of liquid than other types of cups. They come with a cover and small sip gap to avert spills. These cups can be used in the travel without the fear of liquid spilling on the dresses or bags.
How to Choose a Travel Mug
1. Material
Most Travel Mugs found in the market are either built out of plastic or stainless steel. While plastic mugs are lighter to use, they can spoil your beverage. A stainless steel Travel Mug will be strong and also easy to clean. It will not contaminate your drink and is safe to use.
2. Size
The mug size depends on how you will use the Travel Mug. A huge mug works great for the office  but for small walks or treks a smaller, lighter mug makes more sense. You also need to keep in mind the size of your car's cup holder if you are going to be taking it on road trips.
3. Insulation
There are Travel Mugs with single-walled insulation and double-walled insulation. The double-walled insulation mugs are priced a bit higher but they keep your drinks hot/cold for a longer period. Also, double-walled are more durable than a single-walled Travel Mug.
4. Sip vs Straw
Another way to differentiate between Travel Mugs is the way you drink out of them. Those who prefer cold beverages would want to have a hole that can fit a straw. One the other hand, the ones who are geared towards hot drinks would prefer a small hole for safe sipping.
Conclusion
So this is our final list of the Top 8 Travel Mugs. We have selected the Mugs from a wide variety and we believe you will find your preference in the list.
For all-round performance, you can go for the Contigo Autoseal or the Zojirushi. For long durations, the RTIC 20 OZ Stainless Steel Tumbler works perfectly while the 52-ounce Bubba Brands Travel Mug from Bubba Brands has the highest capacity. Otherwise, for a compact and stylish Travel Mug, you can pick the Ello Campy Travel Mug or the NiftyCORE Bamboo Thermo. If you want a Travel Mug that you can drink with a straw, buy the Bubba Envy S Stainless-Steel Tumbler. If you think we missed one and should be one the list, put a comment below.