When it comes to shoes, we don't really need a reason to buy. We can find the perfect pair every day, and resisting yourself from buying is not an option. But a lot of times, what looks pretty from the outside doesn't prove so in the long run.
You can easily take that chance for a regular pair, but when it comes to special water shoes used for different water sports, the wrong choice can end in an injury for you. Hear it from the experts, people who love trekking, scuba diving, rafting, kayaking, or any other sport that includes a splash of water know all about the need for a good pair of water shoes.
Water shoes help in providing insulation and keeping our feet warm in Coldwater while allowing improved water flow. They are usually made of mesh material to provide instant drainage when out of the water and increased breathability. There are hundreds of water shoes in the market with all different colors, materials, designs, and also price tags, which makes it pretty difficult for people to decide which one will prove best for their money.
To make it a little easier for you, we have listed some of our favorite water shoes that look pretty from the outside and sturdy from inside.
List of Best Water Shoes
1. Women's Mesh Slip-on Water Shoes by Aleader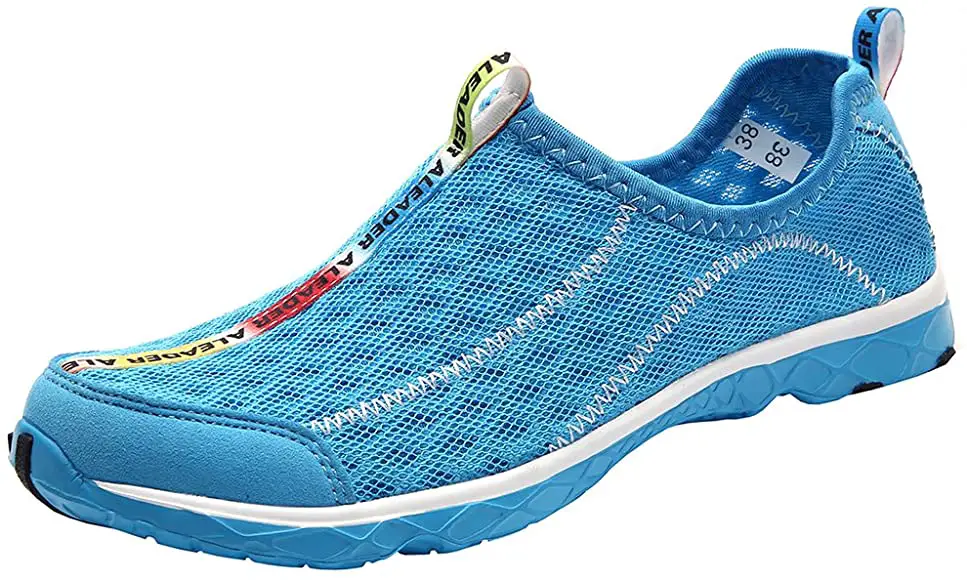 Available in multiple colors and sizes, Aleader' Water shoes are highly Breathable, and the amazing water grain outsole provides exceptional traction in wet and slippery conditions. The hydrophobic engineered mesh used in the manufacturing of these shoes offers excellent drainage and quick drying. Something that we all look for is comfort, and Aleader is always a step ahead in that.
The comfordry sock liner feels like a cushion for your heel and maintains healthy feet. Another great feature is the solyte midsole that provides unbelievable durability and bounce-back capability keeping the shoes extremely lightweight.
2. Women's Quick Drying Aqua Water Shoes by Zhuanglin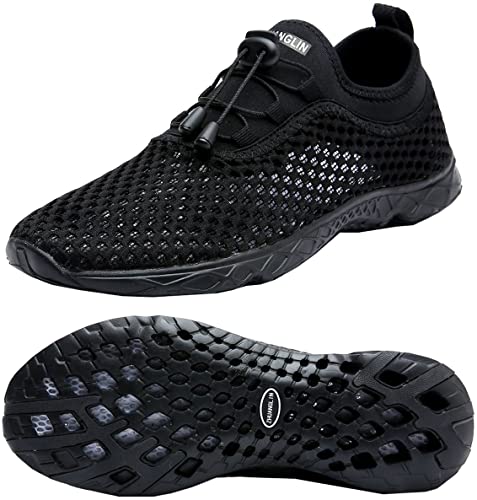 Another similar pair by Zhuanglin, which comes in beautiful shades of black, grey, and other vibrant colors, is made of 90% fabric and a comfortable rubber sole. The open mesh allows super breathability, quick-drying and makes the shoes ultra-lightweight to make you feel like you're floating in the water.
The anti-slip rubber sole improves flexibility and enhances grip to provide your feet maximum protection, stability, and comfort. Solyte midsole and ComforDry Sockliner keeps your feet cooler, drier, and healthy. Think of any water sport, and they will serve you the best.
3. Men's Quick-drying Aqua Water Shoes by Aleader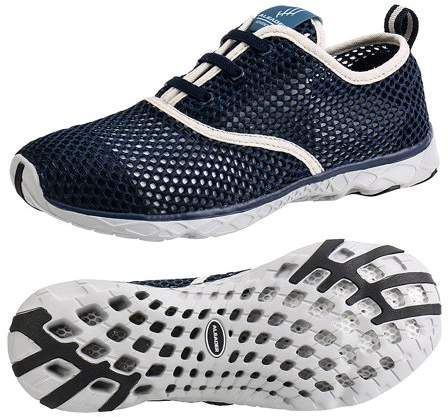 Aleader also has a separate line for Men's water shoes that poses similar features as to the women's version. The only difference you'll notice in the color options and size chart rest; everything is the same. Aleader believes that life is enriched through adventure, travel, and community, and comfort should be everyone's top priority.
Therefore, their shoes come with the fluid flow technology to quickly drain the water, and hydrophobic mesh upper guarantees breathability and keep the feet cool and healthy. Coming to the durability and flexibility of the shoes, solyte midsole comes to rescue, and the rubber pods provide additional traction and perfect grip.
4. Women's Hydro Sport Training Water Shoes by Ryka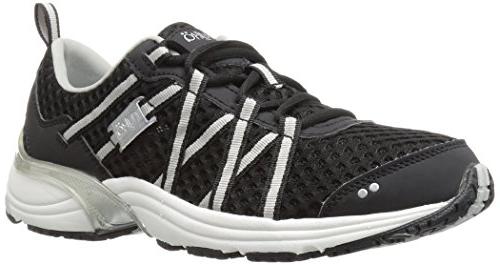 Available in eye-catching color combinations, these shoes are not just great for water-filled activities but also for other sports. They are made of durable textile and upper covered with mesh to let your feet breathe freely. They also have a fantastic Speed lace system with toggle for easy on/off and save a lot of your time.
The removable Nitracel insole provides cushioning, and webbing midfoot cage provides medial and lateral support. It has an excellent drainage system that includes Compression-molded EVA midsole with drainage port for quick drying.
5. Men's Swiftwater Mesh Sandal by Crocs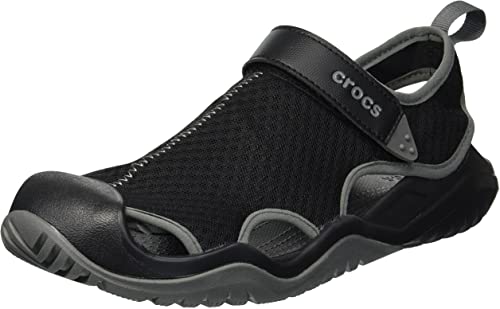 Looking for something more casual and feel at home? Well, the Swiftwater sandals are specially designed for you. Available in three different colors and multiples sizes, these are loved by everyone and can complement any adventurous sport. Crocs have different kinds of water shoes/sandals for men, women, and kids, but this one here is our favorite.
They are soft, comfortable, lightweight, superior-gripping, non-marking, and odor-resistant shoes and are also known for their pull-on loop at the heel, making it easier to wear and take off. It comes with beautiful mesh design at the top, which helps in proper drainage and grip.
6. Men's Water Shoes Surfwalker Pro 3.0 by Speedo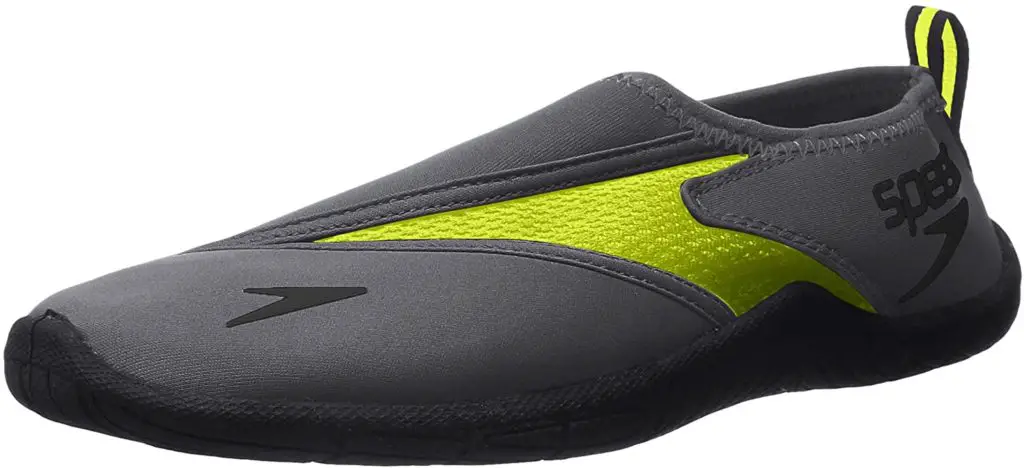 Speedo has gained quite a good reputation in the market for their swimwear and swim accessories, so why should they be behind when it comes to water shoes? They are made of 100% neoprene upper and other Breathable material like mesh to keep your feet super comfy and dry even when you're walking on the seaside and playing in the sand.
Extremely lightweight as any other water shoes, these slide sandal also features a seaweed massage footbed to make you feel at home. Moreover, speedo's s-trac outsole streams water away from the shoe, enhancing direct surface contact for even better traction and slip resistance.
7. Men's All Out Blaze Sieve Water Shoes by Merell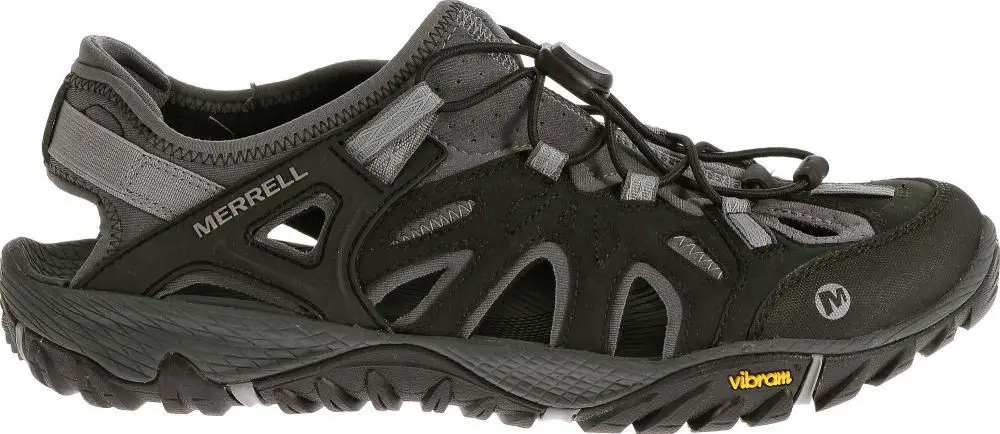 If you're looking for an all-rounder pair, Merell has the perfect option for you. Best suited for hiking, trail running, mountain, or even for a casual day out with friends. These shoes promise to deliver performance, durability, and versatility with their attractive and sturdy design.
They are made of waxy waterproof leather fabric upper and lycra neoprene stretch collar for easy on and off. It also features Vibram TC5+ outsole to provide comfort and flexibility to your feet. They might look a little stuffed up from outside, but the mesh used in their design allows complete breathability and drainage.
8. Premium Neoprene Men & Women Wetsuit Boots by Neo-Sport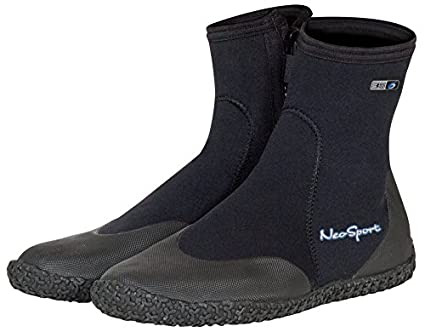 If you're not a water person and looking for a pair of shoes that can keep water away from your feet while you enjoy a splash, this might be your best pick. They are made of neoprene material that provides puncture resistance and thermal protection to keep your feet dry and warm.
They are shaped like boots with zippers at the back that is sewn to a high traction sole great for boat decks, sandy beaches, and any wet or muddy surface. The best part about these shoes is that they're available in all men and women sizes so, if you're looking to buy similar pairs for yourself and your soul mate, this is your opportunity.
9. Water Shoes for Men/Women by Cior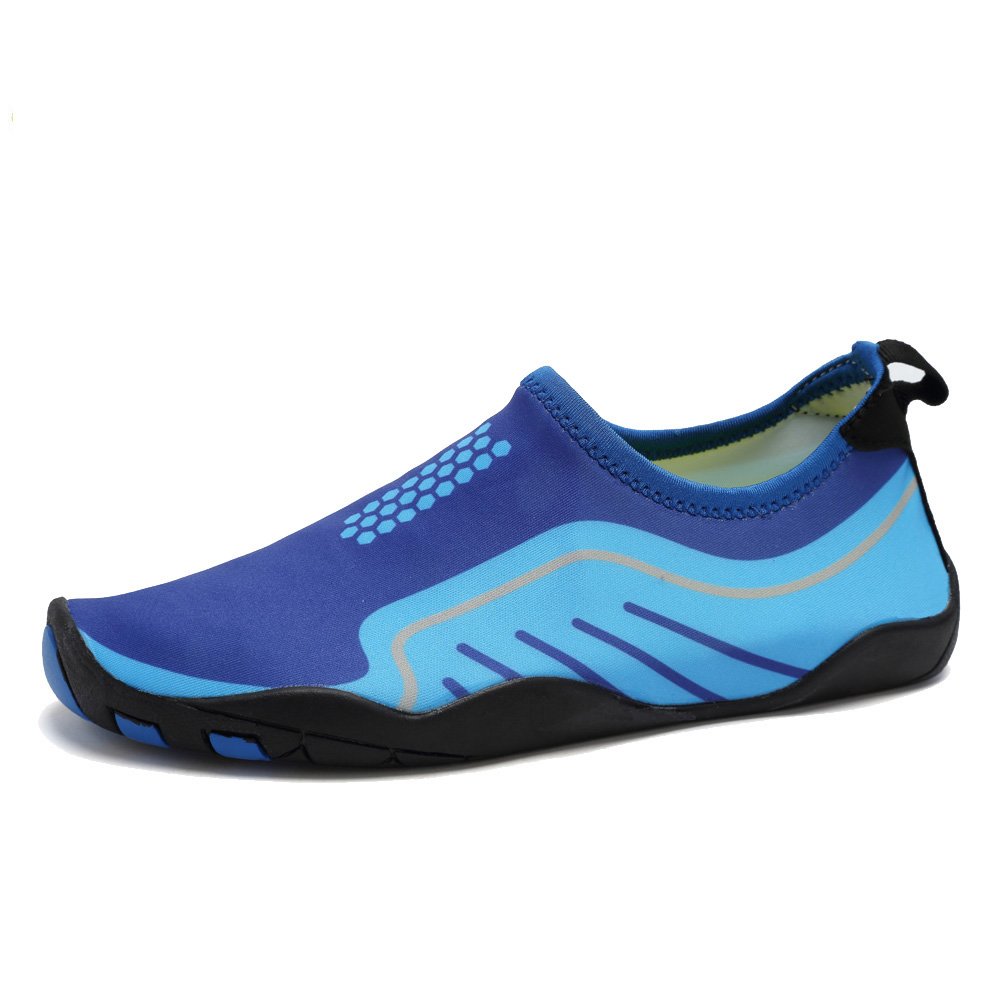 Another multipurpose pair for all activities like surfing, beach volleyball, pilates, weight training, wake-boarding, sailing, parasailing, boating, or kayaking, you name it. The material used in its manufacturing is quite breathable and comfortable, allows all toes to move and articulate without restraint.
The rubber soles are flexible yet thick enough to protect your feet from stepping on rock and stone and hurting yourself. To enhance drainage and provide quick-drying, it comes with seven holes on each bottom to ensure proper water flow out of them, which creates a cooler and healthier shoe environment.
10. Men's Signa Athletic Boating Shoe by Vibram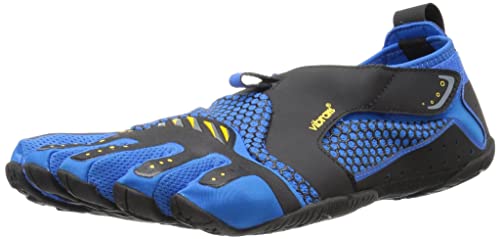 Uniquely designed, this Vibram's Signa water shoes are ultra-thin, flexible, and lightweight. They are made out of 100% Stretch Polyester Mesh and rubber sole that promotes perfect drainage, breathability, and comfort. Their signature five fingers design makes it an ideal choice for rowers, surfers, kayakers, and SUP fanatics.
They can be easily machine washed, and air-dried hundreds of times but will never lose the grip and comfort out on the water and will always pack easily into a dry bag at the end of the day. Vibram has an entirely different and unique understanding of the need for water shoes, and therefore, they've created this matchless piece of beauty for our feet.
Before placing the order for any shoes, make sure you're well aware of your size. The size chart can be different for each country and shoe type. These were some of our favorite water shoes. Let us know in the comments section below which one you liked the most or any other water shoes that should be on this list.