Bags are a part of our daily life. We cannot imagine our lives without a bag, whether it is for work, college, casual outings, or a family function. You need a bag everywhere to keep your essentials secured and handy. 
But a lot of times, we come across a situation where we cannot carry a bag all day long but still need our things like cash or smartphones on our side. This is where Sling Bags comes into action!
Sling Bags are small-sized but spacious, and the best part is that you can easily wear them over your shoulder or waist without feeling any weight or fear of misplacing them. Another important point is that they are gender-neutral and will look good on all men or women. 
If you're a fashion enthusiast and love following the trends, you would know everything about the hustle 'Sling Bags' have made in the fashion industry. They're very accessible, lightweight, comfortable, and most importantly very safe to carry around when going to a crowded place where you can easily be pickpocketed. 
Sling Bags are available in different designs, materials, and sizes in the market according to the need of the people. If you're thinking of buying one, you should first ask yourself- why you exactly need it for and then choose the material, size, or design. 
You'll find a whole different line for work purposes, for traveling, for causal day outs and even shiny ones that will look good with your wedding dresses or for other family functions. 
Picking out one from thousands of different options is a little time consuming and difficult. Therefore, we've handpicked the best Sling Bags for you, that are multipurpose and suitable for all. 
List of Best Sling Bags
1. OutdoorMaster Sling Bag
The first one on our list is a very stylish, compact, and lightweight Crossbody Sling bag pack that is loved by both men and women. It is available in multiple colors and is perfectly spacious for urban, travel, and outdoor and as carry-on luggage. 
Talking about its size, dimensions are 11.8 inches x 4 inches x 17.7 inches, and it can easily accommodate a camera and a tablet or a mini laptop up to 12.5″. Not just a camera or tablet, but it is versatile enough to hold up all your essentials. It is equipped with an external water bottle holder and several small pockets and even a hidden Anti-Theft pocket. 
The reversible shoulder strap makes it a suitable product for both lefties and righties, and it can be worn as a shoulder, chest, or Crossbody Sling bag. Another amazing feature of this Sling bag is that it comes with six months OutdoorMaster'Gurantee Warranty to provide you 100% satisfaction. 
2. KAVU Original Rope Sling Bag
If you're a big fan of funky colors and patterns, this is the best range for you. KAVU Sling Bags are made of 100% 600D polyester material that makes it super lightweight and durable. One of the unique features of these bags is their rope Sling that is sturdy but soft. It also comes with some buckle clips to help you make all the adjustments. 
Coming to its size and space, the dimensions are 20 x 11 x 3 inches, and it is a lot spacious than you can imagine. Along with its sleek design, it has two main pockets to pack your books or clothes according to the occasion and two small front pockets to hold your phone or other necessary items. It also has an internal zip pocket to keep your cash safe and handy. 
This bag is the right choice for students and even for people who love going for bike rides or other adventure activities where you're supposed to carry less weight.
3. Leaper Retro Sling Bag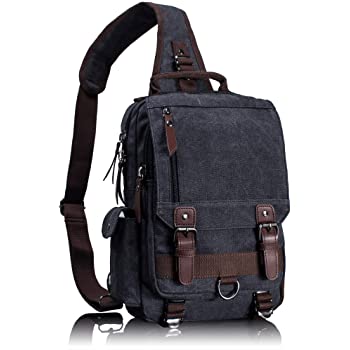 People who literally can't live without their laptops, this is your dream Sling Bag. Made out of very durable canvas material with leather decorations, this bag is available in multiple color options from simple shades of grey to funky shades of green. 
With one zipper pocket in the front flap, one zipper pocket and one open pocket under the flap, and two side pockets, it becomes a great vintage and multifunctional Sling bag. Other than this, the main compartment is fitted with two zip heads and pulls:
1 inner zipper pocket.
1 inner laptop pocket.
2 small inner pockets that can fit all your essentials in just one place. 
It has adjustable buckles at every pocket for extra safety and accessibility. It can be worn as a single shoulder bag and can also act as a crossbody Sling bag according to your use and necessities. 
4. Nicgid Sling Bag
If you're looking for a small-sized Fanny Pack styled bag, this will be the best option for you. People who love a good run and adventure walks always look for a bag that is not very bulky and just spacious enough to carry their phone or cash or other little things for easy access and safety. 
The Nicgid Sling Bag is made out of pure nylon material that is water-resistant and super lightweight to keep all your essentials safe and secured in every weather. It's specially designed for people who go on a lot of adventure and always struggle to find their small things in their big bags. 
This bag is suited for both men and women, and its hands-free design and adjustable strap makes it super comfortable and a solid option for daily use as well as on adventure tours. 
5. Travelon Anti-Theft Cross-Body Bag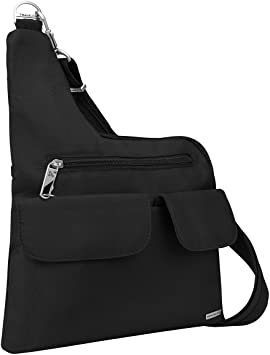 Another one in the list that comes in all different funky patterns and designs. It has a slash-resistant body construction and slash-proof, an adjustable shoulder strap that can be attached a to post or chair. 
Travelon is coming up as a great travel brand, and they have a very good range of Anti-Theft travel bags. This Sling Bag is very much liked by a lot of people for its durability and space. It is extremely lightweight and in addition to this, it has locking Straps that allows you to lock your bag to a stationary object and protects against grab-n-go thieves. 
6. Red Rock Outdoor Gear – Rover Sling Bag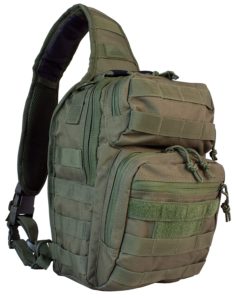 Made out of durable polyester construction with PVC lining, this Sling Bag is solely made for adventure travelers, equipped with multiple pockets. The three storage compartments are large enough to tote a first aid kit, binoculars, ammunition, or many survival essentials for all adventure lovers. 
It also houses an adjustable ambidextrous strap for over the shoulder carry and a concealed-carry sleeve on the back panel of the bag to easily and comfortably carry a pistol. 
The exterior of the bag is fully covered in Molle webbing for attaching additional pouches and gear to provide maximum storage and comfort during your tour. 
7. NeatPack Canvas Sling Bag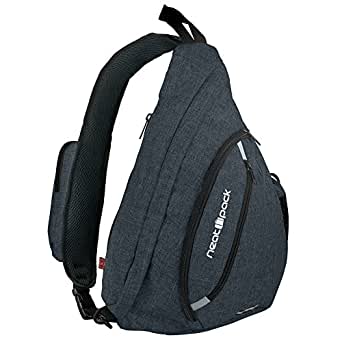 Most versatile, lightweight, & stylish sling bag that holds your essentials without bogging you down! It literally has more compartments than any other bag and can be worn comfortably in multiple ways. This sling bag by NeatPack is made out of canvas and polyester material to provide durability and water resistance. 
Along with its super spacious design, it also comes with a small pocket on its front strap to keep your phone and headphones and it is also equipped with a hidden pocket on the back to keep your essentials. NeatPack also offers a lifetime guarantee on their Sling Bags to provide you with a great experience. 
8. CADeN Camera Sling Backpack
The next one we have on our list is for all our fellow photography lovers who love carrying their cameras everywhere with themselves as the perfect shot can be found anywhere. 
Cameras can be bulky, plus they come with a lot of accessories that are not easy to carry around and take care. We know that cameras are very expensive to be carried around in just any bag and therefore this Sling Bag is what you need. 
This bag is drop resistant, shock resistant, and also comes with a double water-resistant feature to keep your camera and accessories safe at all costs. It is also equipped with a side mesh pocket for your bottle storage and a Tripod fixing strap that can securely attach the tripod to avoid swaying. The shoulder strap is fully adjustable to make it suitable according to your need. 
9. Osprey Daylite Sling Bag
Another multipurpose Sling Bag that has received a lot of love from its users. Made out of breathable nylon and soft NeoSpacer mesh material to make it exceptionally lightweight and long-lasting. 
It comes with a main compartment that has sleeves for organization, a front zippered mesh pocket to store smaller items, and a stretch mesh harness pocket on the front strap to provide quick access to small items. 
10. Maxpedition Sitka Gearslinger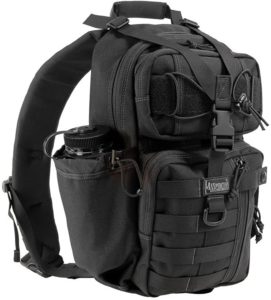 The last one on our list is the sturdy-looking Sitka Gear liner by Maxpedition. It is made out of durable water and abrasion-resistant ballistic nylon fabric and Teflon fabric protector for grime resistance and easy maintenance. 
It comes with top-down access to multiple pockets & pouches, giving you plenty of space to carry your laptop, clothes, books anything at all! It also has a water bottle holder and an Anti-Theft zipper capture system to provide you with a whole great package for daily use or adventure tours. 
The Shoulder strap designed to go over the left shoulder for better weapon shouldering and it can be easily adjusted to make it suitable for your body size. 
If you know about any other Sling Bag that you think should be in this list or you've any other queries, please let us know in the comments section below.