With the changing climate, you can never be sure when you can face a heavy downpour or strong winds. It is always best to be prepared for such situations, especially if you are one of those people who love going on adventures. Rain Ponchos have proved very useful in these circumstances due to their easy portability and versatility.
Finding the best rain Poncho among hundreds of different options can be a tough task, so to minimize the hard work, we have selected the Best 10 Rain Ponchos that are suitable for all and don't burn a hole in your pocket!
List of Best Rain Ponchos
1. Rain Poncho Jacket Coat Hooded by SaphiRose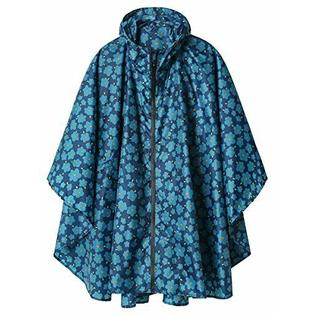 Made out of 100% polyester fabric, this rain poncho is extremely water-resistant as well as stylish. It is entirely made out of fabric and no plastic is used that makes it soft to touch and comfortable for long hours. It is not only completely waterproof but it is also backed up with heat-sealed seam which makes it warmer from inside and initiates quick drying. It comes with an attached hooded cap, long loose sleeves, and a zipper at the front which makes it breathable and keeps you dry from head to foot.
You can also find a piece of elastic inside the Poncho that you can pull tighter around the hood to get a better grip. The color and pattern of this Poncho are very attractive and modern which makes it a great choice for people who love trendy items. This is a travel-friendly poncho that can be easily carried in a backpack, suitcase or handbag by packing it in a pouch that comes along with it.
2. Waterproof Rain Poncho Lightweight Reusable Hiking Hooded Coat Jacket by Anyoo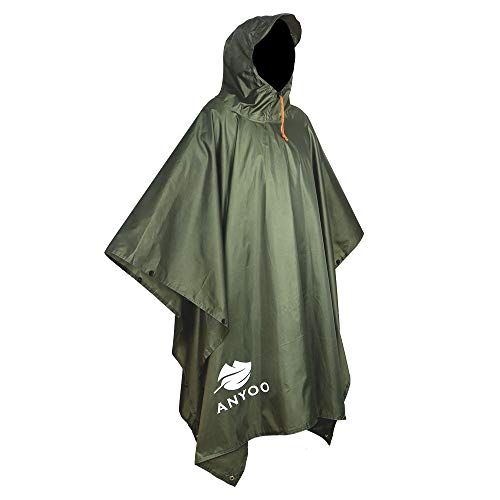 If you're an adventurous person and are looking for a super durable and efficient rain Poncho, this product is perfect for you. Tried and tested by a lot of people for activities such as hiking, camping or road tripping, it proved its worth every time. It is made with strong polyester and rip-resistant nylon material which makes it amazingly waterproof, durable, and reusable for tons of activities.
One of the unique features of this Poncho is that it can be used in various other ways such as a groundsheet during camping or picnics and can even work as a tarp for your trekking trips. The material is very lightweight and the attached hood is extremely comfortable which will let you enjoy the rain during your trip. It easily folds into a compact drawstring storage pouch so that you can carry it around with you easily.
3. Men's Pacific Rain Poncho by Charles River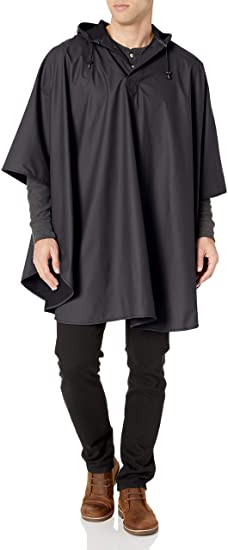 This Rain Poncho from the well known Charles River apparel line is entirely made out of New Englander polyurethane that's bonded to a knit backing, providing additional fabric strength. The inside is lined with light warm fabric to act as heat-sealed seams and lock the body warmth inside when it's raining. The polyurethane material is altogether similar to polyester in durability and comfort.
It features a hood with drawstrings and a snap placket at the neck for added wind/rain protection along with loose sleeves with Side Snap Closure Under Arms that adds a lot of comfort in the poncho. It conveniently packs into a matching storage pouch making it easy to carry around for unexpected rains.
4. Hooded Pullover Rain Poncho with Side Snaps by Totes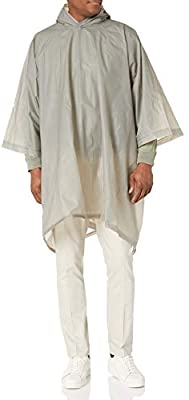 One of the cheapest options in the list, this Poncho is made from the extremely lightweight EFA fabric that not only allows for more comfortable wear but also keeps you dry during the heaviest rainfalls. The EFA material is highly water-resistant and can tolerate wear and tear for many years. It has a unique and beautiful pullover design with side snaps and features a built-in hood to keep your head dry while you enjoy most out of the rainy season.
The built of this Rain Ponchos is suitable for almost all adult sizes which fit it perfectly in One Size For All criteria. It comes with a mesh storage pouch for easy portability. The mesh cover also helps in fast-drying by preventing it from extra moisture.
5. Ultra-Lite2 Waterproof Breathable Poncho by Frogg Toggs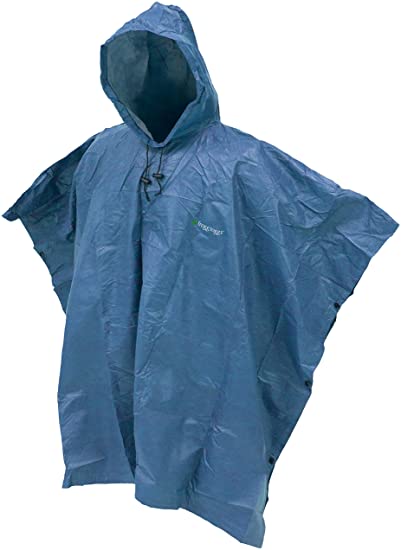 Another great option for travel enthusiasts who love exploring nature and adventures. This Ultra-Lite2 Rain Poncho is constructed from a super lightweight, Water Resistant, and Breathable non-woven polypropylene material that is extremely soft to touch.
It also provides wind resistance making it favorable for Outdoor Activities such as hiking, camping, fishing, hunting, watching the game on a rainy day. It features an adjustable hood with cord locks and side snaps for extra protection and also includes a strong stuff sack for easy toting.
6. Disposable Rain Ponchos for Adults by Hagon Pro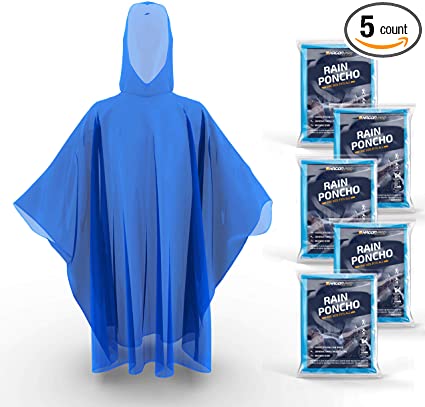 If you're looking for Disposable options, the Hagon Pro Disposable Rain Ponchos are the best in all. It comes in a pack of 5 transparent Ponchos and can easily be packed in backpacks, purses, or in suitcases and even in a wallet. It comes in two different sizes for adults and kids and can even fit while wearing a backpack. It is made of a very thick material that makes it suitable for all different kinds of seasons from snow to windy.
It is extremely lightweight, compact and very much suitable for all adventurous activities such as adventure parks, hiking or any other outdoor activity. It also comes with a unique design to prevent a sauna effect that keeps you cool from inside during hot days.
7. Hooded Rain Poncho: Waterproof Emergency Military Ponchos by Foxelli
Looking for a cool and stylish Rain Poncho to make all your friends jealous? This one is the perfect pick for you. It comes in a variety of fun colors and patterns and is the top choice of many people for concerts or camping. The premium quality, tear-resistant polyester coated material allows ponchos to be used for years to come and offer the absolute best protection in heavy rain and winds. Its extra-large size makes it suitable for all adults and can even protect your backpack during heavy pouring.
It is equipped with an adjustable hood and a visor to provide 100% comfort and also features velcro fasteners on the sides for ultimate accessibility. It is versatile in nature and works just more than a Poncho. It can be used in multiple ways, for example, unfold it and use it as a picnic mat, a rain tarp, a sleeping bag cover, an emergency shelter, or a sunshade.
8. Hooded Rain Poncho Waterproof Raincoat Jacket by SaphiRose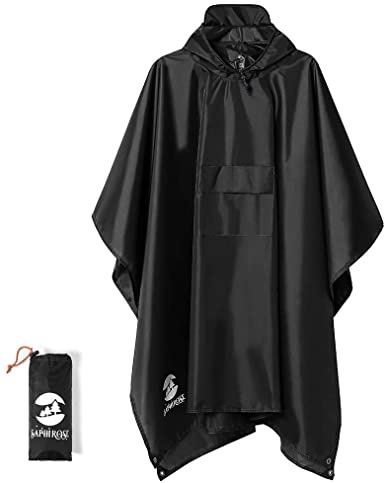 Another praiseworthy Rain Poncho from Saphi Rose that is completely manufactured from high-quality polyester fabric to provide super water resistance, years of durability, and comfort. Suitable for all kinds of outdoor activities such as walking, camping, hiking, trekking, travel, water park, etc. as it is exceptionally lightweight and Breathable. It comes in a one fit all size and is big enough to be worn with a backpack.
It comes in a 3 in 1 style and can also be used as a canopy and picnic mat other than a rain poncho. The button style is with bonded seam, softer and lighter fabric while the zipper style is also nothing less than fashionable. It is compact with a matched elastic drawstring pouch for packing and Heat-sealed seams. It also features a big sized front pocket with zipper for the best placement of wallets and cell phones and a comfy hood.
9. Emergency Disposable Rain Ponchos by KASU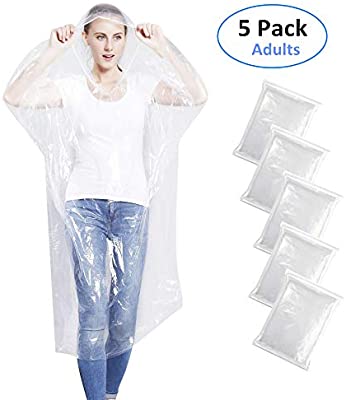 Another awesome disposable option that is 30% extra thicker than a regular Poncho and still lighter in weight as compared to other ponchos. Similar to the other emergency rain Poncho option, it also comes in a pack of 5 and is compact enough to be kept in your back pocket. It is perfect for all outdoor activities such as amusement parks, camping, hiking, tailgating, and obviously, can save you from a sudden rain shower.
It is made from premium quality Polyethylene material and is suitable for everyone- adult and youth, male or female and can even fit your backpack inside.
10. Waterproof Rain Poncho, Hiking Rain Jacket by Terra Hiker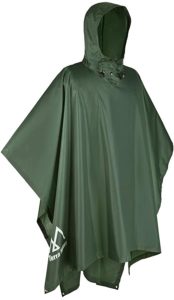 The last Rain Poncho we have here is from Terra Hiker and is considered the most durable rain Ponchos. The ripstop fabric used in its manufacturing makes it super light and thin and still is capable of keeping you dry in heaving downpour. You can even use it as a mat or sunshade to bring more fun to your outdoor ventures as it has thickened eyelets and creates enhanced durability and the hem works in fastening to tent stakes.
It can be easily packed in a small pouch offering great portability. The hood also has an adjustable drawstring to help protect your face and it has cuffs with Velcro on both sides to ensure maximum comfort. It also features a cap margin with elastic rope for effective protection during strong winds.
These were our top 10 picks for the Rain Ponchos, if you have any more queries related to Rain Ponchos, do let us know in the comments section below.